You've recovered from plantar fasciitis and you feel now is the time to choose your next pair of running shoes. Which ones will help avoid the condition returning? What are the best running shoes for plantar fasciitis? Here are five suitable candidates from the larger running shoe manufacturers:
Truth is… Theres no one shoe that can be held up as the best shoe for everyone.
How To Choose A Running Shoe After Plantar Fascitis
You should look for a shoe that has characteristics that will suit you and your running style. If your plantar fasciitis was caused by running. A good place to start would be to take a good look at the running shoes you were wearing.
Was there something about them that helped trigger the PF?
Had you run in them until there was no rubber left on them?
Were they appropriate for the type of running or miles you were doing?
Maybe it wasn't the shoes but the high mileage you were putting in to get race fit.
The Answer! A shoe that provides support and a soft ride.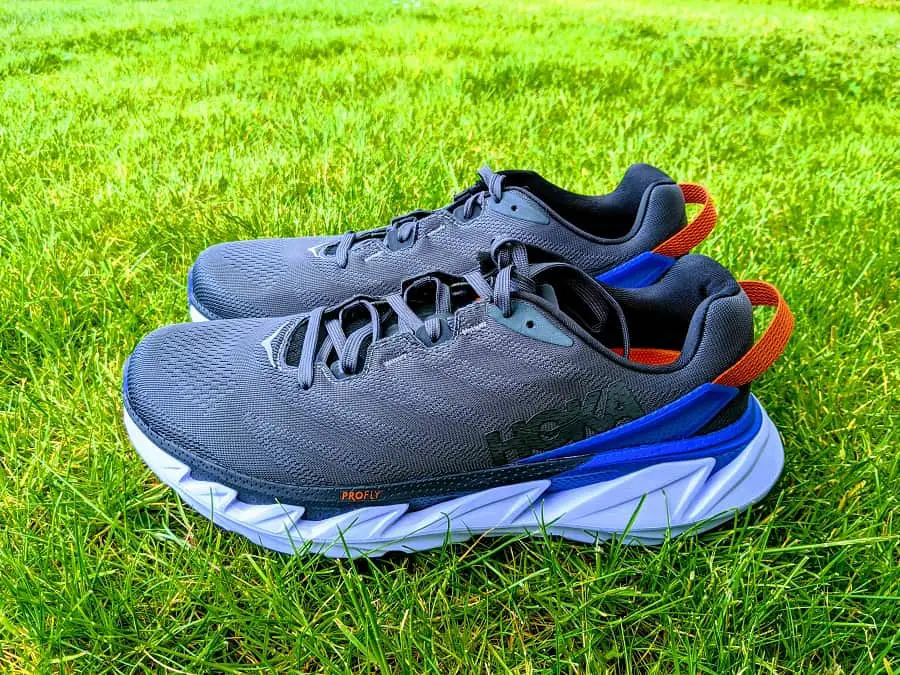 But how does a shoe provide support and have enough cushion to make you feel like your floating on air?
The better question is stability or neutral. A stability shoe does not twist easily. A neutral shoe will twist in the middle with the same force. This matters as a stability shoe is designed to give support to those who over pronate. Or to provide support to new runners or tired muscle at the end of a long run.
The benefit of this is that if (or when) your feet get tired they will be supported and will appreciate all the help they can get from a stability shoe.
As someone who has had PF you'll know how good those crocks feel on your feet as you walk around the house. I invested in some Hoka One One sliders for this reason (I love them and I highly recommend them). 
So take that soft ride into your next running shoe and pick a pair with a good depth of cushioning with some quality foam!
Advantages Of A Supportive Soft Running Shoe
The main benefit of the shoe you choose should be that it helps stop PF coming back. Everything else is incidental during your initial return to running.
That doesn't mean to say that you shouldn't look forward to pulling them on and getting out the door for a run. If you don't enjoy them whats the point? Equally you would put them on to try to beat your 5k pr.
Plantar Fasciitis Recovery Running Shoe – Attributes
A I mentioned the two main things to look for are:
I'll add to those points with the following:
Good arch support
A shoe with good arch support will help prevent your feet working too hard when you start asking more of them.
Comfortable upper body
The top half of your foot should have some thought while choosing a shoe. If you lace up and wince you wont be inclined to pull them on through the week.
Good amount of rubber on the sole
You'll be coming back slow. If you've had PF you wont be hitting the track for interval training or a 20 mile long run. You should be steady and consistent and build mileage at a rate of between 5% and 10% per week. You'll be putting the miles in, so look for a shoe with plenty of rubber that will take you a long time to wear through!
How To Use Your New Shoes
Slow and short
The pain of PF may well be fresh in your mind. You don't need me to tell you that you don't want it to come back.
Start slow, stay slow!
For a few weeks or months at least. Don't do anything that might trigger the return of the PF! If you feel a twinge stop. You've probably got some gizmos or gadgets that helped you recover first time round. I found a hot bath helped my feet during recovery and its something I still do now (for various recovery reasons).
Start short, get longer.
Start by running round the block in your new shoes and build from there. First time out you have no idea if you about to trigger another bout of PF so don't go far.
Allow recovery time between runs. If your used to running everyday, don't do that just yet. I find it helps if I run every other day. At my age I need to allow my body time to recover and my feet thank me for that also.
Don't worry about fitness – Coming back from an injury your fitter than you think so give yourself a break and enjoy running for the sake of it.
After a few weeks or months try adding another (normal?) show back into the mix. If all has gone well you could try putting your favourite running shoes on. Apply the 80/20 rule and (as ever) take it steady at first. Think, were these shoes part of the reason you got PF in the first place?
Controversy
Some people suggest that a zero drop shoe can help stretch out the calf and reduce the risk of PF. Now I'm not an elite athlete and if your reading this I'm guessing your not either. While it is commonly accepted that stretching out the calf muscles can help.
I wouldn't feel comfortable putting my feet through such an ordeal. It's an injury risk that can be avoided!
Coming Back From Plantar Fasciitis
Plantar Fasciitis can come back, any sign of a twinge should be taken seriously. Stop running straight away (take the bus home if need be). Rest up. Recover well before trying another short slow run.
Don't start up running too soon either. It wont matter if you've chosen the perfect running shoe if you haven't fully recovered. Your doctor or physio should define what fully recovered is if this is the first time you've had PF.
If this isn't the first time you've had it.. Have you taken sufficient steps this time around to ensure it doesn't make another return?
Rational Shoe Review
Some more information for you to help you choose the best shoe for you when youre coming back from Plantar Fasciitis
The ASICS Gel-Kayano 25 is designed to provide great support in a lightweight running shoe. There are lots of technical words in the marketing materials like IGS and DuoMax. The bottom line on this shoe is that youll get the stability and cushioning you need.