Running sunglasses should be light and robust. you may be wearing them for long periods of time so they need to be comfortable. However the main practical function is to protect your eyes from the sun not only to keep your eyes comfortable but to protect them from the two types of radiation coming from the sun.
This article will help you find the best sunglasses for running. It also helps you understand why it's so important to protect your eyes from the sun.
Buyers Guide
There are practical and aesthetic considerations you need to consider when choosing a new pair of sunglasses for running. All suitable sunglasses do a very similar job so in this guide I'm going to lead with price.
Price
Take a look on Amazon and you'll quickly see the wide variety and the wide price range of sunglasses for running. So why such a wide range of prices? Is it necessary to spend over $100 on a pair of sunglasses to get the protection you need?
No, there are plenty are sunglasses available on Amazon that give you almost 100% protection from the sun that cost around $30 to $40.
There is an argument that you shouldn't pay more than this because the sunglasses that you wear when you run could easily be lost or damaged. Paying top dollar for the sunglasses that you love and you feel comfortable then is all well and good. But if you lose them on your first run you'll be more disappointed then you would be if you'd paid $35 for them.
If you're going for a long run in changeable conditions you may be taking the sunglasses off and putting them back on again several times. Sliding them in and out of your running backpack or a pocket, they could easily become damaged or scratched.
That said the more expensive sunglasses are things of beauty and if they make you feel good when you put them on I'm all for that.
Almost Disposable?
So the main concern about the budget end of the running sunglass market isn't aesthetics. It's do they give you the protection that you need. I'm pleased to say that they do. There are lots of pairs of running good value sunglasses available on Amazon that give excellent protection from the suns radiation.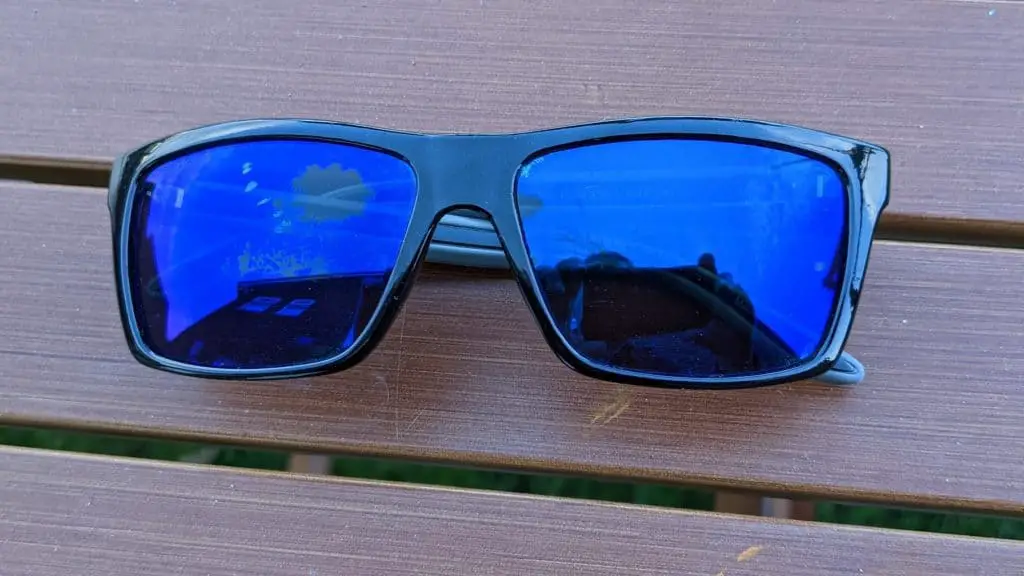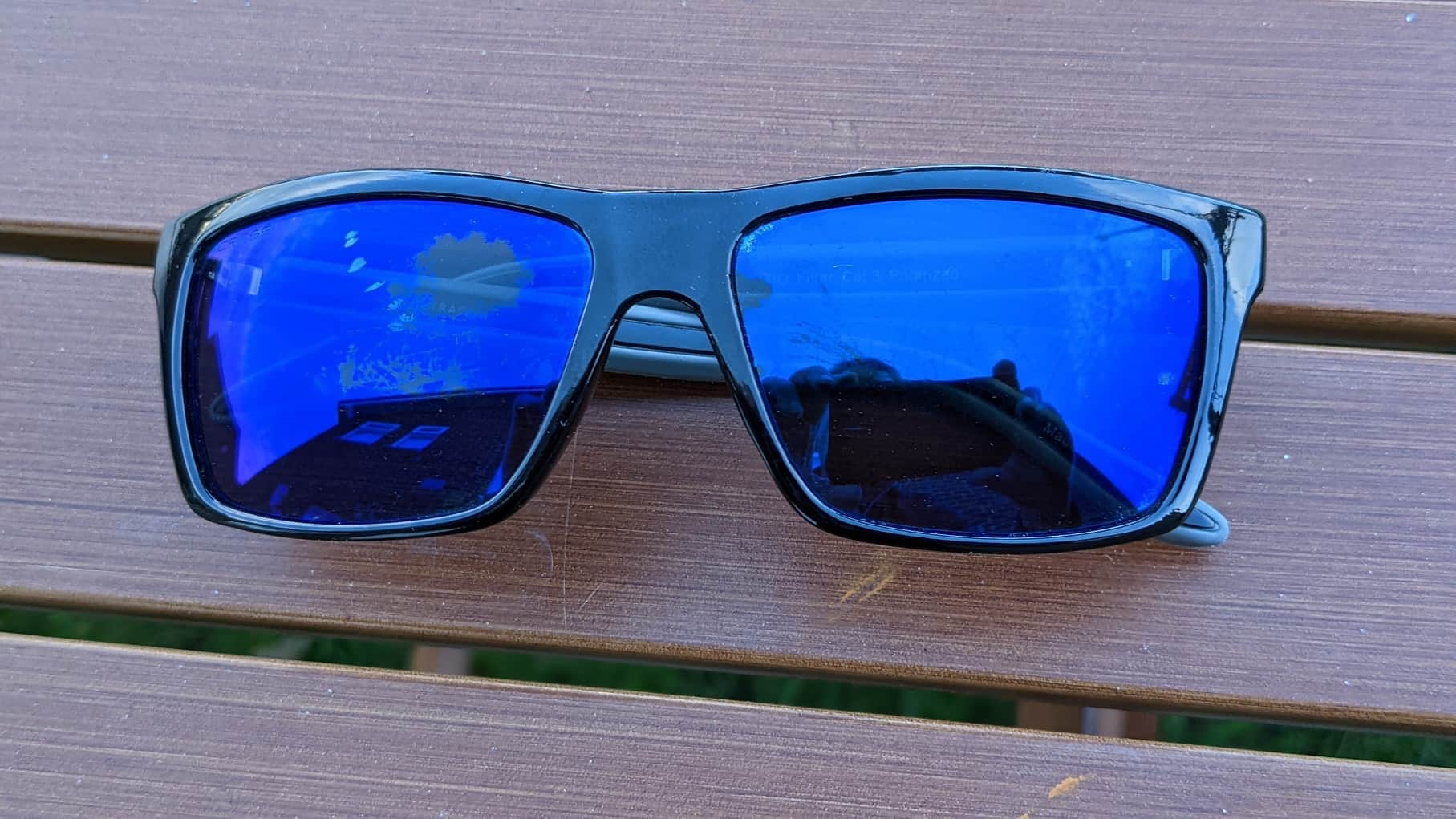 Weight
The weight of running sunglasses is a consideration not because of the potential impact on your running performance. But because they could be on your face for a very long time. The last thing you need when putting in a hard effort is to be thinking about your sunglasses.
The major contributing factor to the weight of your sunglasses is the frame material and design. We're talking a very low number in terms of weight difference. But that weight difference could have a major impact on how the sunglasses feel when you pull them on.
Scratch Resistance
The lens material a sunglasses is a form of plastic or a material called SR-91. Glass lenses were made redundant when plastic based lenses came along.
The plastic is hard enough to resist scratching to a degree. Some running sunglasses go step further and have a scratch resistant coating applied to the surface of the lens. These glasses invariably cost more but the extra cost may be worth it if it extends the working life are the sunglasses for you.
Ventilated
Protecting your eyes from the sun needs to be done in the summer and winter. if theres snow on the ground the sunlight reflected up from the snow means there's more light going into your eyes that in the summertime.
Breathing hard your sunglasses means they need to be ventilated so they don't fog up. The same is true in the summer to a lesser extent.
As I write we are in the middle of Covid-19. Face masks have become a fashion accessory that nobody wanted. It's more important than ever to find running sunglasses with adequate ventilation to ensure they don't fog up if you're out for a run with a face mask on.
Stable On The Face
The sunglasses should fit well enough so they're stable on your face. Sunglasses that bounce on your face as you run will only detract from your running performance.
You should be able to sit move your head around with your sunglasses on and they should not move at all. If they move under those conditions think about how they will behave when you're smashing out eight minute miles.
Good fitting stable sunglasses wont slip or cause chafing on your ears or nose. Take a look at the nose bridge of the glasses. Some have a non-slip pads that will help with stability.
Other Considerations
What else should you consider when looking for a pair of sunglasses to go running in.
Map Checking
Are you short or long sighted to the point will you need prescription lenses when you run. Opticians do offer sport sunglasses and they can replace the lenses in your favourite pair.
So if you'll run well involves map reading fear not, this issue can be resolved.
Aesthetics
Aesthetics should be a secondary issue when choosing a pair of running sunglasses. No one would ever accuse me being a slave to fashion but I must admit how sunglasses look is one of the first things I consider.
I don't want to be on the cutting edge of fashion but do you want a pair the work and are age appropriate. I appreciate there will be 1000 different opinions out there and we all like shiny new things.
Final Thoughts: Best Sunglasses For Running
Consider two passes running sunglasses.
I have a pair that I take on longer runs or races where I know I'm going to be taking them off and putting them back on again. I don't really mind too much is there a damaged or if I lose them. They are definitely function over form they're not the prettiest.
I have a pair but I like to wear on a hot summer evening when I'm going out for a cruising 10k. I feel good wearing them their age appropriate and they give me the protection from the sun that I need.