The Apple watch is a (very) smart watch that has running features. A Garmin is a running watch that can do some smart phone stuff. They can both play music.
Other running watches are available and not all Garmin's play music but its important to highlight the difference.
If you don't want to take your phone on a run. This guide will help you understand how to play music on a watch and help you choose the best running watch with music.
Buyers Guide
There are a few ways to use different running watches to listen to music. Online, offline, apple watch, with an app without an app. Sounds confusing but as I'll show here, it can be simplified quite quickly.
Running headphones are an important part of this equation. I've tried lots of different types and have ended up with what I consider the ultimate running head phones, the AfterShokz Aeropex. They are not cheap costing more than my last pair of running shoes but they are perfect for me.
Garmin Running Watches With Music
Toe the line of any marathon major or local 10k and a high percentage of people will be sporting a Garmin watch. They have an excellent reputation among runners, they are accurate, look the part and are packed with technology.
When you're out for a run with your Garmin running watch it is essentially offline. The music or podcasts you can listen to will have been transferred to your smart phone ahead of your run.
You have the option of either Spotify, Deezer or the Amazon Music app. Spotify being the most popular with its huge library of music and popularity with podcasters. You will need a Premium Spotify account for this to work.
You also have the option to transfer the audio via a USB cable from your computer.
So that's great but it does feel like technology from 2003 to me. We are spoilt these days. We can listen to pretty much any music from any time in history in an instant on our smart phones. So going back to a time where we needed to sync something up can feel a little restrictive.
Running With An Apple Watch
The Apple watch is an amazing device however it isn't a focused running watch. It does a pretty good tracking your runs and now does a very good job playing music.
It obviously has Apple music capabilities and right model can now stream from Spotify. As long as you have the cellular version of the watch and you run in an area that has internet, you now have full untethered Spotify.
If you're a casual runner who wants to track your run and listen to music maybe the Apple watch is the device for you.
Polar Running Watch With Music?
I find it quite surprising that there isn't a Polar running watch that can store music for you to listen to. The Polar Vantage V2 can control Spotify on your phone but this means taking your phone. Also most good head phones can perform basic controls of Spotify on your phone.
What about Fitbit?
Since Google purchased Fitbit it hasn't been clear what their strategy will be. Will they launch a range of watches with different capabilities including Music. Or will they narrow the range to two or three very good but very fitness focussed devices. At the time of writing it isn't clear so I cant comment at this time. I will return to this area as I think it could be very exciting. With the might of Google behind the Fitbit brand they could take on Apple and Garmin and beat them both.  Only time will tell (Feb 2021).
Other Considerations
Other considerations here are music focused on factors you should consider when choosing a running watch that you want to play music on.
Battery Life
Good battery life on a watch that has GPS, barometer, a large screen and can play music is essential. There's little point in having all the capabilities imaginable but then the battery dies after an hour or two of running.
With the need to maintain a Bluetooth connection to your ear pods or headphones the battery will run out of power faster.
Music Echo System
If you've been in the Apple music echo system for years. You may be very reluctant to switch to a watch where you'll need to sign up for Spotify Premium.
Equally if you are a Spotify person you have the option to go for any watch on the market including the Apple watch.
Style
If style is high on your priority list go for the Apple watch type – music capable smart watch with running capabilities.
If you arnt so concerned about style and you want more running functions – go for a Garmin type watch.
That said the days when a running watch was clearly an agricultural looking device are very much in the past.
Conclusion: Best Running Watches With Music
I've tried to keep very focussed here on the types of devices out there and the main criteria for choosing between them.
I used to have an iPod that I would connect to my laptop with a USB cable. I now have a smart phone that can play any music at any time. I don't like the idea of going back to the days of waiting for things to sync.
Consider buying a Flipbelt and taking your phone with you. It's a good safety idea to have a phone with you 'just in case' anyway.
But if you a speedy runner and need some fast music without being weighed down by your phone. There are watch solutions out there for you.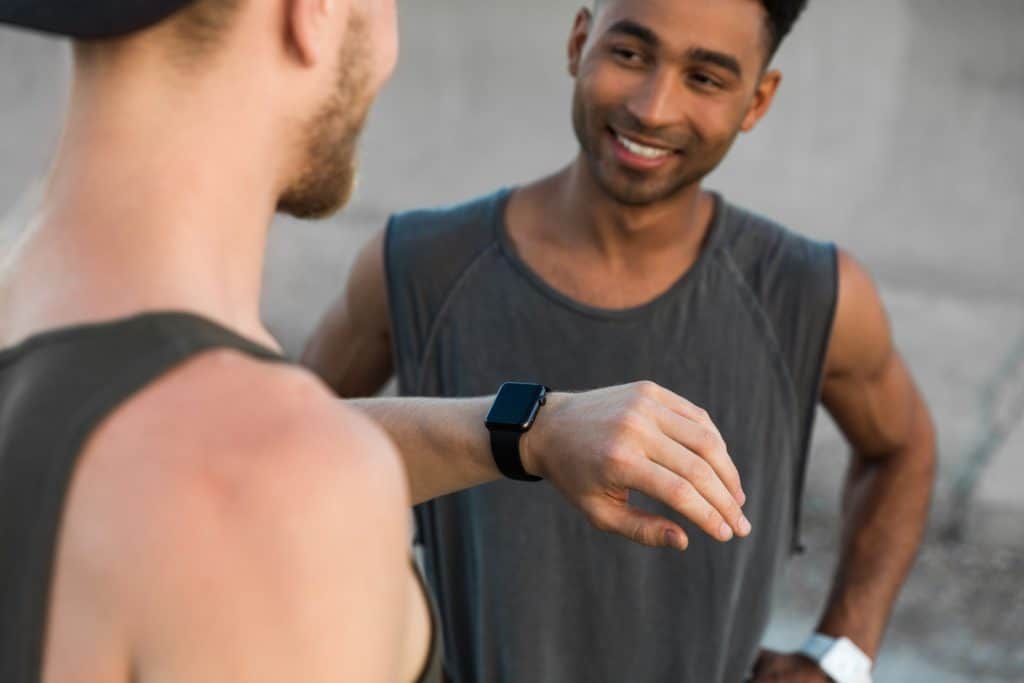 Frequently Asked Questions
Can you listen to music on a smartwatch affordable running watch with music?
Yes, take a look at the Amazfit watch in the article.