Founded in 2003 in England, inov-8 is a company that produces footwear for running and adventure sports. inov-8 shoes are designed to improve performance in various outdoor sports such as trail running, fell running and cross country races.
They are now venturing into running shoes for the road and marathon.
inov-8 running gear is great for those obsessed with results. Inevitably this has led them to be one of the world's leading athletics brands, distributing in over 120 countries worldwide – making it easy for people everywhere to access innovative running products designed with them in mind.
inov-8 also creates clothing items such as base layers and tights.
In this blog post, I have compiled some awesome facts about inov-8!
What do the letters and numbers mean?
The numbers in the shoe names indocate the weight of the shoe. For example, there is a pair of shoes has a weight of 290g because of this it's called the MUDROC 290.
inov-8 developed the world's first graphene-infused running shoes. The GRIPFIT rubber outsoles are made of an infinitesimally thin layer of graphene, and they give you extreme stickiness as well as durability. Thats what the G means.
One of the most popular inov-8 models is the X-TALON 212. Pronounced 'cross', not 'X', it was originally designed to be a less aggressive alternative to the MUDCLAW for use on cross country terrain.
The TRAILROC 150 now lives on as an older model and is no longer in the current range. It was the lightest shoe in the inov-8 range.
Is Inov-8 a good brand?
Inov-8 has an excelent reputation in the running community. They are well-known for their innovation and technological advances in athletic footwear.
It used to be the case that they were known only for off road mountain shoes, however in recent years they have become a major player in the road and trail running markets.
They are also a sustainable company with green initiatives in the manufacture of their products and in trying to reduce energy usage in production.
The brand is popular in Europe, but has gained traction in North America too thanks to its adoption by many ultra runners, such as Kilian Jornet and Anton Krupicka.
Who started the Inov-8 company?
Wayne Edy first came up with the idea for inov-8 in 1989. In 2015 inov-8 became part of the Descente group.
Mr Edy bought back the company in 2020. This coincided with the hugely successful launch of a range of running shoes featuring the graphene infused G-FLY material.
It is innovations like this have seen this relatively small British running shoe company go from strength to strength.
Does inov-8 have good ethics?
inov-8 is a responsible company that has invested in the local economy by supporting the manufacturing operations in China. The happiness of the staff in the factory is evedent by the very low staff turnover. They strive for good working conditions that are safe for all.
The factory is one of the largest employers in the area and contributes to developing the economy.
They have a policy of not employing anyone under the age of 18. All are paid fairly and fed well on site.
The factory itself is a modern facility and recycles all materials where possible.
Who does inov-8 align itself with?
Rerun clothing – Rerun was setup by Dan Lawson, a legend of British 24 hour racing and holder of the fastest time from Lands End to John O'Groats. He is also a leading shuffle dancer.
Dan is also know for being passionate about the environment and plastic in the seas (that's an understatement). It speaks volumes about inov-8 that he has aligned himself with them.
Cumbria Wildlife Trust – This voluntary organisation is dedicated to the Cumbrian countryside, its places and the creatures within it.
For such an organisation to choose to partner with inov-8 again says a lot about inov-8's high ethical standards.
Waste into Wellbeing – Another voluntary organisation in the heart of the Cumbrian countryside. They take food that supermarkets are about to dispose of and distribute it to the local community on an affordable basis.
They are close to inov-8's head office and closely aligned in moral and ethical outlook.
Where was Graphene Developed?
Graphene was developed by inov-8 in conjunction with the University of Manchester.
In 2018, inov-8 introduced GRAPHENE-GRIP™ to the outsoles of its running, hiking and fitness shoes. Currently over 50% of inov-8's footwear is graphene enhanced.
Is inov-8 a sustainable business?
Inov-8 approaches sustainability in three different ways.
Durability of the running shoes it makes
The company tests its products before they are available for purchase. This ensures quality and helps to ensure customer satisfaction.
inov-8 running shoes come with a variety of designs, but the company also strives to use materials that are sustainable in the production process.
By communicating information about how to care for products, inov-8 hopes to reduce the amount of replacement items needed.
Heavily researched and developed a new, super-durable material for the shoe upper. This Schoeller® ceramic coated fabric is also used to protect the International Space Station.
inov-8's impact on the environment
inov-8 shoes are made from materials that have a lighter environmental impact than other running shoes.
Waste is avoided and as is pollution during the manufacturing process.
Recycled paper is used in the shoe boxes, and vegetable ink for the markings. They also use FSC certified paper for the hangtags on the clothing products.
They select energy suppliers that can provide renewable energy for their offices.
inov-8 supports communities by donating its time and money to suitable charities and projects.
Does inov-8 have a shop?
inov-8 opened its first branded inov-8 store in the Lake District the UK in April 2021. Known as the Forge Store you can pick up inov-8 footwear and apparel, as well as other products from brands that they have a close relationship with.
When Inov-8 opened the retail store it was done in partnership with Pete Bland Sports. The store marks an important milestone for the company and the market leader, who were the first to stock Inov-8 shoes over a decade ago.
When did inov-8 join Instagram?
inov-8 posted its first picture on Instagram on the 22nd June 2012. Two pictures where posted on this day. One of a view of Boston (USA) and a pair of inov-8's and another of a pair of inov-8 running shoes.
They have got a lot better at pictures and have a few more followers these days!
Their insta content ranges from product pictures to brand ambassadors doing amazing things while wearing inov-8 gear. If you haven't already done so, check them out here.
What type of apparel does inov-8 make?
inov-8 make an entire range  of apparel in three different styles. The inov-8 tight, inov-8 lite and inov-8 heavy are all designed to suit the way you like to run or your physical shape.
Inov-8 apparel is inov-8 designed, inov-8 tested and inov-8 built. You'll find inov-8 clothing for both on and off the trail.
What are some advantages of inov-8 apparel?
inov-8 clothing provides all round protection against harsh environments by combining breathable fabrics, abrasion resistant treatments and water repellent finishes. As well as this inov-8's innovative technology ensures exceptional comfort.
Damian Hall: Coast To Coast
In 2021, Damian Hall broke the Coast to Coast record that had been in place for over thirty years.
The inov-8 athlete set off from St Bees and ran the 185-mile route, breaking a record by 18 minutes.
He accomplished this amazing feet in a pair of inov-8 TERRAULTRA G 270 shoes and head to toe in inov-8 clothing.
I was lucky enough to be there when he completed his record and took this picture.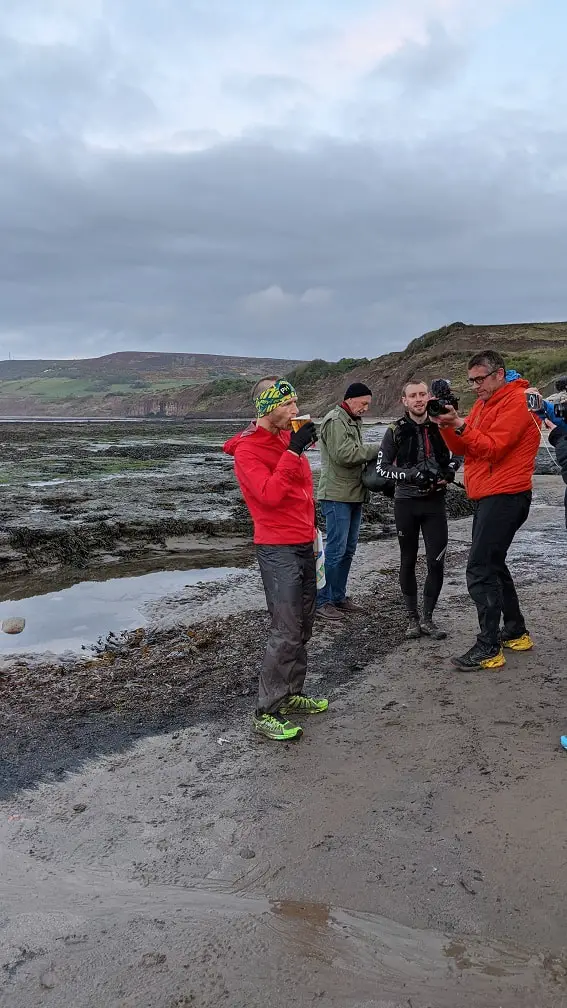 inov-8s Key workers Discount 
In another example of how inov-8 care for the community. During the global pandemic they have offered key workers 20% off their next purchase. Take a look here.
When did inov-8 create a YouTube channel?
inov-8s YouTube channel was created on the 8th August 2011. Now over ten years old they put up some excellent videos that I'm sure you'll find as inspiring as I do.
Frequently Asked Questions
Which inov-8 shoes are best for CrossFit?
For men: Inov-8 F-lite 195
For women: Inov-8 F-Lite™ 235
How many people work for Inov-8?
There are over 400 employees globally. This includes the designers, engineers and marketing team. They have offices all around the world from the UK to China.
Do inov-8 make ladies water proof running jackets?
They sure do. Take a look here: https://www.inov-8.com/womens-running-jackets
Apparel by inov-8 gets excellent reviews.
Do inov-8 make zero drop running shoes?
They sure do indeed make drop shoes, for example the BARE-XF 210 V3.
The BARE-XF 210 V3 is a lightweight shoe with a close to the ground design, ensuring that it moves as your foot does.
Do inov-8 fit true to size?
Inov-8 shoes are available in a variety of widths, from narrow to wide. The shoes are designed with MET-CRADLE™ tech for a stable hold, but each one has its own fit, so it's best to find the right style and size that works for you.
Does inov-8 make wide shoes?
Yes. Inov-8 make running shoes to fit feet of all shapes and sizes.
They did have un-justified reputation of being a narrow fit. Its unclear where this reputation came from but it simply isn't the case.
Do inov-8 shoes run small?
Most people find that they run true to size. For example if you are a size 10 in a pair of Asics, you'll be a size 10 in a pair of inov-8's.
Does inov-8 make barefoot shoes?
inov-8s barefoot range of shoe is called Bare-XF.
Are inov-8 shoes vegan?
All inov-8 shoes are vegan. In addition, the materials we use for our footwear are tested to either SATRA or INTERTEK global standards.
What is inov-8's 'Precision Fit'?
inov-8s precision fit provides a close, comfortable heel while the shoe is also tailored to your foot.
Precision in fit keeps these shoes a close-fit to the foot on any surface.
Precision fit is best for people with a narrower forefoot and those using the product for shorter runs.